Window to Chiang Mai Thailand
Tours & Trekking
Transport around Chiang Mai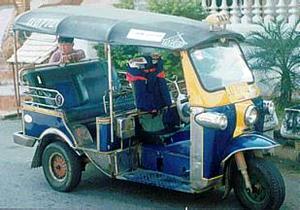 Getting around Chiang Mai is a fairly straight-forward if sometimes nerve-wracking experience. Despite Chiang Mai's reputation as a tranquil city full of temples and surrounded by scenic nature, you can forget about images of quiet tree-lined streets frequented by pedestrians and smiling pensioners on bicycles. No, Chiang Mai's streets have become busy and sometimes congested.
The first option is to travel in the famous Thailand tuk tuk (pron. took took). Many visitors to Thailand are familiar with these from their trips to Bangkok. Riding a tuk tuk is the quintessential Thai experience, and although you are at the mercy of breathing car fumes, these small vehicles are very effective at beating the traffic. You may grow tiresome of the "hello, tuk tuk" shouts, but having haggled a price beforehand, you should end up at your requested destination and not unexpectedly pull up outside a jewellery shop or dodgy tailor.
Then there's the over-abundant songtaews (means 2 rows), which are Chiang Mai's bus and taxi service rolled into one. These are red pickup trucks with a canopy and twin rows of bench seating. The mafia-like songtaew association has seen to it there are almost as many songtaews in Chiang Mai as there are people (well, not quite, but they are certainly way too many of them - a congestion menace).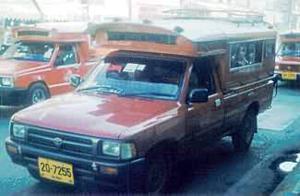 These ply the popular routes and are so frequent you needn't wait long to flag one down. If they are heading in your direction, the standard fee is 20 baht, but they'll go anywhere for a reasonable price unless they already have passengers. They don't mind cruising the streets half-empty, thus proving to be efficient and convenient; besides, they'll pull over at will, do u-turns and travel the wrong way up one-way streets, much to the chagrin of other motorists.
Songtaews cruise Chiang Mai centre or congregate outside the flower market, Suan Dok hospital, Central shopping mall and other spots, including the entrance to Chiang Mai University (for trips up Doi Suthep). They also double as removal vans and some even cruise suburbs at 10kph with noisy advertising commentary blaring from rigged speakers.
A very limited bus service now exists, and the distinctive yellow metered taxis are now trickling into Chiang Mai, offering comfort and air-conditioning. In Chiang Mai city, a journey never takes more than 20 minutes, unlike Bangkok.
The most practical way to get around Chiang Mai is definitely by hired motorbike. Some simply don't have the nerve to tackle the traffic and bizarre driving habit here, but everyone travels at an easy pace, there's room for everyone, and this certainly isn't big, bad Bangkok.
Cars can be hired too, but driving them in Chiang Mai is likely to be a frustrating experience and four wheels are only useful if it's raining or you intend on exploring the province.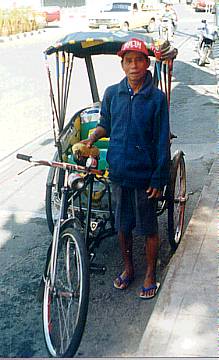 Rickshaws:
You can rent rickshaws (tricycles) for a tour to the sights of Chiang Mai, 100 THB for a half day. Short journeys are quite inexpensive, too (10 to 20 THB). Many rickshaws are waiting in front of the hotels or at Thapae Gate for customers.
Hiring bicycles is also popular among tourists, but the Thais will look at you as if you are deranged! For sure it's the best way to explore the narrow, quiet lanes of the old city, but the heat and humidity make it uncomfortable and, outside of the moat, traffic isn't very respectful of cyclists.
With all these hire options, you are spoilt for choice as there are numerous places clustered around tourist streets near Thapae Gate and the Loi Kroh area. Prices are competitive and don't vary much, so the quality of the bike is the most important criteria for choosing. Be aware that many don't come with insurance, but it's worth paying the extra fee as motorbike theft is on the rise in Chiang Mai.
The last option is your own two feet. There is no substitute for discovering a city by walking at your own pace. Thai cities aren't very good for walking - the traffic ignores zebra crossings, the pavements are often crowded with hawkers or full of holes and street dogs can be a nuisance.
You can use the "Sightseeing Guide to Chiang Mai" to explore the city on your own.
Safety warning
Be very wary of your speed and always keep an eye out for bad drivers, Chiang Mai is full of them. In fact, poor driving is one of the city's worst problems, and many simply don't have a licence or any regard for road rules. Other drivers may suddenly pull out in front of you without even looking, abruptly stop, overtake dangerously, and ignore motorcyclists. Some also stop and park where it suits them, weave through traffic with a death wish, ride the wrong way up the road into oncoming traffic, and more. Always pay attention and drive conservatively. Accidents are regular and when they do happen, the offender is reluctant to accept any responsibility.
Trains
(Reservations & Information Tel: 242094).
The State Railway of Thailand (SRT) has a computer reservation system for sleeping berths on rapid and express night trains and reclining seats on the faster 'sprinter' service. The lower sleeping berth in second class (air-conditioned or fan) is a little more comfortable than the upper. Rapid and Express trains have dining cars, and vendors sell drinks, snacks and food.
Reservations through agents or advance booking offices at main stations.
Train and Bus Schedules; Bangkok - Chiang Mai
Busses from Chiang Mai Arcade Bus Station
To
Class
Departure
Duration
Phone No.
Bangkok
Ordinary & Air Conditioned Bus
Every 1 Hour From 06.30 - 21.30
10 Hours
053 242664
Chiang Rai
Ordinary & Air Conditioned Bus
Every 30mins From 05.30-17.00
3 Hours
053 266481-4
Mae Sai
Ordinary & Air Conditioned Bus
05.15/06.00/08.00/12.30/14.00/15.30/17.00
5 Hours
053 266481-4
Pai
Minibus
4 11/13
3 Hours
053 244737
053 304748
Ordinary Bus
103/140
5 Hours
Mae Hong Son (Via Pai)
Ordinary Bus
07.00/09.00/12.30
7 Hours
053 244737
053 304748
Mae Hong Son (Via Maesariang)
Minibus
06.30/08.00/13.30/15.00/18.00
8 Hours
053 244737
053 304748
Ordinary Bus
11/21
8 Hours
Busses from Chang Phuak Bus Station Tel: 053 211586
| To | Class | Departure | Duration |
| --- | --- | --- | --- |
| Fang | Minibus | Every 30 Mins From 05.30-19.30 | 3 Hours |
| Mae Rim | Minibus | Every 15 Mins From 05.30-18.00 | 20 Mins |
| Mae Taeng | Minibus | Every 30 Mins From 05.30-17.30 | 30 Mins |
| Chiang Dao | Minibus | Every 30 Mins From 05.30-17.30 | 1.5 Hours |
| Om Koy | Ordinary Bus | 07.05/13.30 | 4 Hours |
| Thaton | Ordinary Bus | 05.30/07.20/09.00/10.30/11.30/13.030/13.30 | 4 Hours |
| Peangloung | Ordinary Bus | 08.30/12.30 | 6 Hours |
| Hod | Ordinary Bus | Every 20 Mins From 04.30-16.30 | 3 Hours |
| Doi Tao | Ordinary Bus | 04.30/05.30/07.30/08.30/10.30/12.30/14.30/15.30 | 3 Hours |
| Chomthong | Ordinary Bus | Every 20 Mins From 04.30-18.00 | 1.30 Hours |
| Prao (North) | Ordinary Bus | 06.20/09.50/13.50/15.50 | 2 Hours |
| Prao (South) | Ordinary Bus | 06.10/06.40/07.10/08.30 Then Every 1 Hr Till 16.30/ 17.10/18.10 | 2 Hours |
| Mae Jo | Ordinary Bus | Every 1 Hour From 04.20-21.00 | 15 Mins |
| Lamphun | Ordinary Bus | 06.45/08.00 Then Every 1 Hour Till 18.00 | 1 Hour |
| Samoeng | Ordinary Bus | 09.00/10.45/12.30/14.15/16.00 | 3 Hours |
| Ban Watchan | Ordinary Bus | 11.00 | 6 hours |